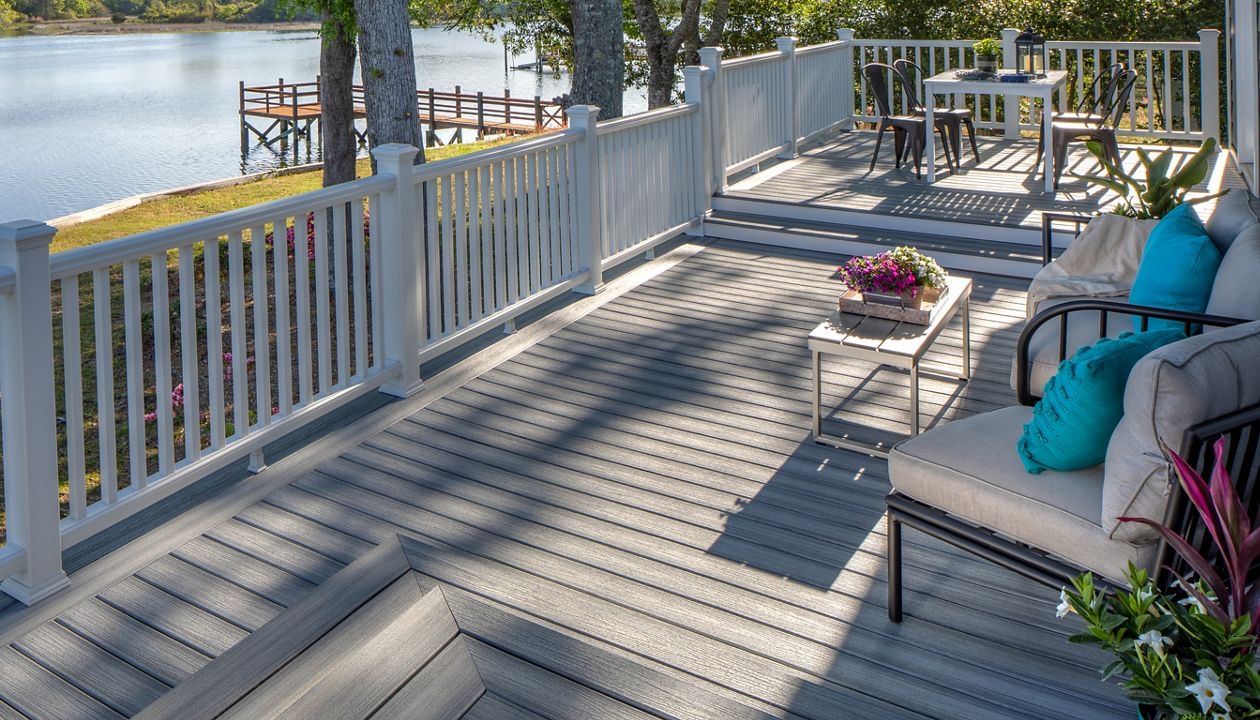 If you're adding a deck to your home, a railing is essential for both safety and style. There are a number of different railing types to choose from, especially when it comes to the popular composite decking brand, Trex. We'll break down the top 3 Trex deck railing types so you can select the best option for your home.
All About Trex Deck Railing
At Standard Supply & Lumber, we know a quality deck isn't complete without adding railings to compliment it. We've partnered with top-tier decking and railing manufacturers, such as Trex, so you'll always have all the resources you need when you need them.
If you want to learn more about the different types of Trex deck railing and how to pick the best option for you, read on!
The 3 Types of Trex Deck Railing
Trex offers three deck railing systems with composite and aluminum rail options designed for every aesthetic and budget. No matter which Trex deck railing you decide to go with for your outdoor space, you can always be sure that the quality will be top-notch.
Some of the standout features of every Trex railing include:
Resistance to fading and erosion
Easy installation
Durability (Trex railings won't rot, warp, peel, or splinter)
A 25-year limited residential warranty
1. Trex Signature Railings
Trex Signature® options feature powder-coated aluminum rails and top-notch durability. This collection is best known for offering a minimalist style with maximum strength. Plus, the aluminum used is a 100% recyclable and renewable resource.
Trex Signature Colors:
Charcoal Black
Bronze
Classic White
Noteworthy Features of Trex Signature:
Performs equally well for both residential and commercial settings
Resists fading and erosion
Offers beverage-ready cocktail railings and curved railings
2. Trex Transcend Railing
Trex® Transcend railing is available in nearly limitless options so you can mix and match profiles and colors for a fully-customized look. You can get as specific as you want to eliminate the guesswork with pre-designed kits. Plus, you can count on Trex Transcend to be strong and sturdy, just like the rest of their products.
No other Trex railing line offers the freedom to mix and match infill and rails like Trex Transcend.
One of the most popular infill options is glass, which will create a sophisticated look and allow for full visibility of your landscaping.
Trex Signature Colors:
Charcoal Black
Classic White
Gravel Path
Rope Swing
Tree House
Vintage Lantern
Noteworthy Features of Trex Signature:
Offers the freedom to mix and match infill and rails
Puts every color combination within reach
Never needs painting or staining
3. Trex Select Railing
Trex Select® railing is the simplest and most affordable high-performance system. With an easy installation process, it's the perfect solution for any DIYer. The one-box kit includes top and bottom rails, balusters, and all of the needed hardware for a single section of railing.
Trex Select Colors:
Noteworthy Features of Trex Select:
Matches every deck and every budget
Features an integrated shell that utilizes PVC and acrylic to provide a long-lasting, natural aesthetic
Follows a simple three-step installation process
How To Choose the Best Type of Trex Railing for Your Deck
Now that you're familiar with the different options available for Trex deck railing, it's time to decide which one is right for your project.
When you're considering railing options, keep in mind:
The project's budget – Deck railing materials and styles vary in price. Generally, Trex Select will be your most affordable option, Trex Signature will cost the most, and Trex Transcend will sit somewhere between.
Your location – Coastal areas need railing materials that can withstand the salty air and humidity. Rails made from composite vinyl, composite, and aluminum are better options than steel.
The area's surroundings – Do you want to maintain an open ambiance? Opting for Trex Select might be the right option for you so you can install glass panel infills.
Entertaining guests – If you host a lot of gatherings and have guests gathering around your deck, a wide, beverage-ready cocktail railing with Trex Signature may just be the ideal choice for you. This will provide a flat surface for placing drinks and small plates.
Lighting – If you plan on installing lighting, a two-piece top rail will provide the most labor-friendly application and make it easier to access the lighting in the future if it needs to be repaired.
Choosing the Right Trex Railing Color for Your Deck
Sure, choosing the railing with the best functionality for your deck is important. But the look and color matter as well!
If you're trying to pick a Trex railing color for your deck, think about this:
Contrasting or blending in – Do you want your railing to be a focal point or blend in with its surroundings? Examine the area (deck, roofing, doors, trees, plants, grass, etc.) and figure out if you want the railing color to match or not.
Vibe and style – Your deck and its railing will influence the overall experience and mood of the people using it. If you want to exude a relaxed, calming feeling, a railing in a natural color would be best. If you're going for a specific theme, such as nautical, a bright white railing with a wooden deck and pool in the background would be superb.
Viewing angles – Typically, when you're making decisions on your deck you'll be examining it from inside your home or standing on it. Don't forget to view the deck from the outside. You'll want to choose a railing color that looks beautiful from all angles.
Start Building Your Dream Deck With Standard Supply & Lumber
Standard Supply & Lumber is happy to carry Trex products. No matter what your budget or style is, we have the best type of Trex deck railing for you. We're excited to help you build a deck that will last for years to come. So give us a call today to get started!